Maharashtra cabinet clears 50% cut in premiums for builders | Mumbai News – Times of India
MUMBAI: After dilly-dallying for over three months, the state cabinet on Wednesday finally approved the proposal to reduce construction premiums paid by builders by 50%. This reduction will only be for a year and is meant to give a fillip to the building industry, hit hard by the lockdown.
However, the approval came with some riders after the Congress raised questions about the scheme and opposition leader Devendra Fadnavis alleged it was drafted to favour some top builders.
According to the scheme, builders will have to pay premiums based on the Ready Reckoner (RR) rates for 2019 or 2020, whichever is higher.
Builders welcome MVA move, opposition says 'MahaRera needs to monitor' it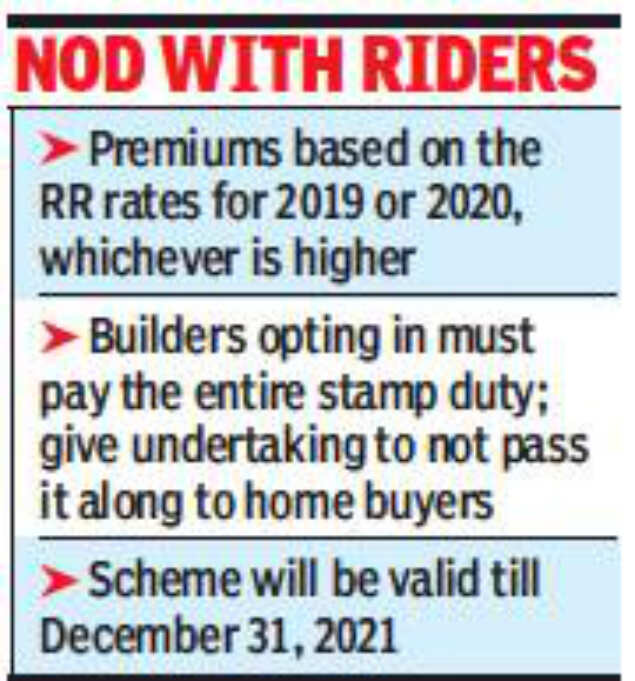 If builders opt to avail the discount, they will have to give an undertaking to the local bodies that they will pay the entire stamp duty and not charge any stamp duty from homebuyers. The scheme will be valid till December 31, 2021.
"The cabinet has approved the proposal. Builders who opt for this scheme will have to pay full stamp duty and can't charge any stamp duty from homebuyers," said Prajakt Tanpure, minister of state (MoS) for urban development.
Fadnavis, however, told TOI, "This decision will help some select builders make windfall profits. The gain they will make is much more than the stamp duty they will pay on behalf of homebuyers. This entire discount scheme must be regulated and monitored by Maha Rera. There must be a mechanism to ensure every single penny saved by a builder by availing premium discount must be passed on to homebuyers. In the current format, this scheme is only for helping builders, not homebuyers." He added, "There are a lot of rumours on how a deal was brokered for approving this scheme. To ensure homebuyers and not just builders benefit, Maha Rera regulation is a must."
In 2020, the RR rates of some land parcels in the city were reduced by almost 70%. "The Government Resolution (GR) will be issued soon," a senior bureaucrat said.
Last month, Fadnavis had accused the MVA government of offering huge sops to select developers under the garb of boosting demand in the economy. Fadnavis had said the Deepak Parekh panel's recommendations, which were discussed at the last state cabinet meeting, would result in a "windfall" of as much as Rs 2,000 crore in the specific projects of five developers. Fadnavis had alleged a substantial decrease in RR rates would benefit certain plot holders to the extent of a 70% reduction in payment. These plots are owned by developers in the western suburbs by the seafront, in the eastern suburbs and in the island city, he claimed.
In addition to the reduction in RR rates, Fadnavis had said the government was further proposing to decrease premiums, levies and cess imposed by the municipal corporations. Fadnavis had said if the state government doesn't take corrective action, he would file a PIL in Bombay high court.
At the last cabinet meeting, Congress minister Aslam Shaikh had said the scheme was too builder-friendly and Congress wasn't consulted while the proposal was drafted.
Niranjan Hiranandani, president of National Real Estate Development Council (NAREDCO), said, "This reduction will go a long way in expediting the project completions and the industry will witness new launches in the market. Over a period there is possibility of lower property price for new inventories that shall come into the market. This reduction in premiums will help in quick turnaround of projects and uplifting industry sentiments."