How this youth from Amritsar has turned 'poster boy' at protest site | Delhi News – Times of India
NEW DELHI: Protests don't have to be loud to make a difference. This was mentioned by Simarjeet Singh, a resident of Amritsar and employee of a music company in Mohali, who has been sitting at the protest site for the past one month. He has been using his writing skills to help others express their feelings through slogans and meaningful lines.
"There was not much work as fresh assignments stopped coming because of the pandemic. But I've been visiting my workplace once a week. I decided to use this opportunity to contribute to this noble cause and help the agitating farmers," said Simarjeet.
Simar Bal, an MBA and employee at music company in Amritsar has been sitting at protest site #SinghuBorder for past… https://t.co/SmNFdcWwSa

— TOI Delhi (@TOIDelhi) 1610076775000
He sits outside a night shelter everyday with chart paper, sketch pens and some books and writes slogans for 300-400 people for free. He first talks to the person to understand his or her point of view before putting anything on paper. He added that his interaction with different kinds of people helped him understand the movement and its purpose even better.
When TOI visited the place on Thursday, there was a long queue at his table with people coming with requests to write slogans in Hindi, Punjabi or English.
"When I came from Amritsar, I had some chart paper and sketch pens in my pocket. I wrote my thoughts and pasted them on the shelter wall. People using the shelter or passing by noticed my work and soon demands started pouring in for making posters or writing slogans. I'm not charging anything, but if people leave money I use it to buy stationery. Besides carrying these posters at the protest site, people are also displaying them on social media to popularise this movement," said Simarjeet.
The youth created the slogans "Farmers are the backbone of the country and we should honour their rights" and "We are here to win and our fight is not yet over" after getting to know the feelings and sentiments of visitors.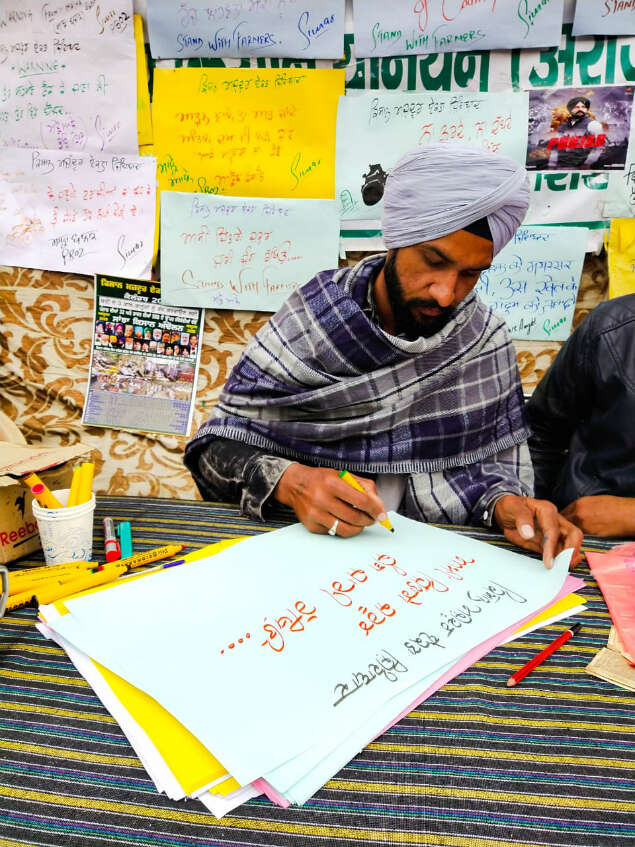 "Whatever be the case, I ensure that my writing never hurts anyone. I don't write anything wrong to put someone down. Our purpose is to achieve our objective silently because words can often move mountains. Each poster has my name mentioned at the end," said Simarjeet.